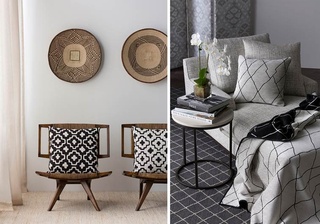 Seeking inspiration from various cultures from around the world, Mokum's Nomad collection is an eclectic blend of luxury textiles, reflecting our love of indigenous cultures and extensive history of adornment. The majority of the collection is inspired by the diverse cultures of Africa, a continent rich in nomadic tribes.
The Nomad collection is a mix of upholstery and drapery fabrics mixing plush chenille and velvet, bold patterned jacquards, subtle earthy linen blends and a sophisticated jute embroidery.
Design Director Stephanie Moffitt speaks about the inspiration behind the collection.
"The Mokum studio looked primarily at the continent of Africa for inspiration as it has such a rich history producing amazing hand crafted tribal art and textiles. The colour palette is also heavily inspired by the earthly colour palette of this region.
Tribal design is also currently a strong trend within fashion and our Mokum studio always looks to fashion as an influence and reinterprets select trends, making them more suitable for interior design. This approach comes from the need for interior design to have longevity and therefore we cannot, like fashion, be too seasonal in our approach."

James Dunlop Textiles is a global textile wholesaler bringing you the very best in textile design, technology, quality and service.
Learn more