Outdoor living at its best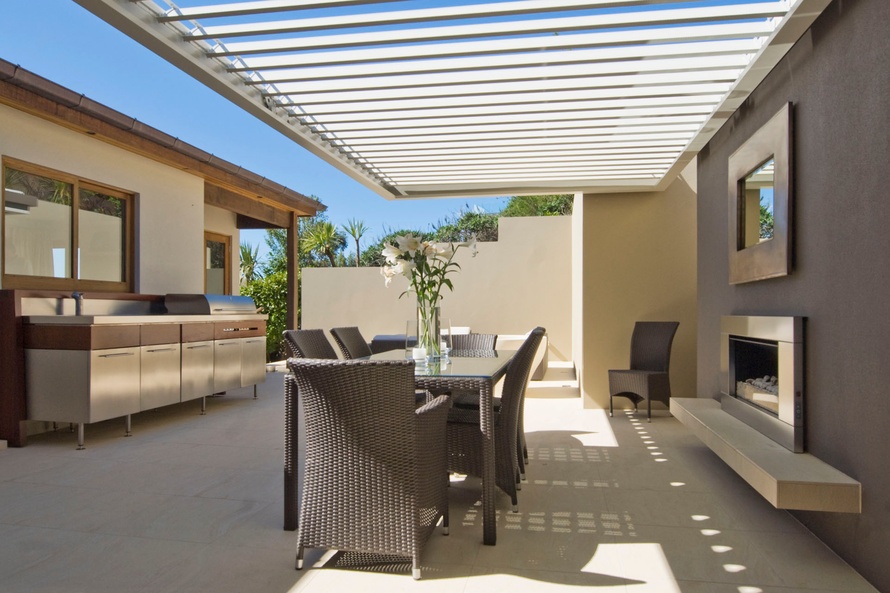 The owners decided on a fireplace at the spa end of the swimming pool. With seating arranged around the fire, it is the ideal spot to warm up after a refreshing swim or relax when the sun goes down.
As well as the inclusion of a swimming pool and spa, this ambitious project also involved excavations and building a retaining wall to create a separate inner-courtyard on the other side of the house.
The courtyard has the ideal set-up for alfresco dining and entertaining with an outdoor kitchen complete with a sink, refrigerator and a BBQ. The table is located in front of an Escea EF5000 fire which takes the chill off the area and allows diners to sit around the table until the wee hours.
The fireplace is a similar model to the Escea fire indoors, which allows for visual continuity. Along with the Escea outdoor fireplace, the addition of automatic louvres above the courtyard ensures that the area is used and enjoyed all year round, not just during the warmer summer months. These louvres can be conveniently adapted to suit different conditions, for example if the sun is shining brightly they can be angled to provide shade, or put on a closed setting if it's raining.
This entertaining area provides its owners with the ultimate in contemporary outdoor living. Designed by architect David Hill of Wilson and Hill Architects, the project design was influenced by the need to integrate the addition with the existing family home. The result maximises the space on the property and its magnificent location, as well as creating a harmonious flow between the indoors and outdoors.
The turquoise water of the infinity pool which echoes the ocean, paired with the use of glass balustrades creates a dramatic visual statement and allows for unobstructed views out to the expanse of ocean beyond. This side of the entertaining area also includes a spa, with a water feature included in the spa wall.
The use of timber for the decking creates a sense of connection with the rest of the house for example the timber fascias and window frames. The inclusion of bi-folding doors out to the courtyard opens up the outdoor area and creates a sense of natural flow.
The overall feel of the renovation is clean and contemporary, which fits perfectly with the rest of the house, creating a greater sense of space. This indoor-outdoor continuity allows the occupants to get the most out of their home and enjoy a more relaxed lifestyle.