Panasonic presents 'Photosynthesis' concept in Milan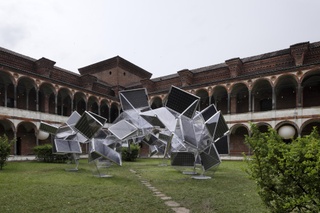 Panasonic Corporation today opened the doors to its "Photosynthesis" concept installation, showcasing its total solutions for creating, saving, storing and managing energy during the course of the Milano Salone del Mobile 2012, one of the largest and most influential design expos in the world, held annually in Milan, Italy.
Panasonic Photosynthesis Installation (Photo by Nacasa & Partners Inc.)
At this year's exhibition, Panasonic is presenting an energy cycle, comparing it to an ecological cycle that begins with photosynthesis, starting with energy creation (through solar panels), and continuing to energy storage (through storage batteries) and energy saving (through LED and organic LED lights), with each stage of the cycle being controlled by an energy management system. The installation, which is the first outdoor exhibit for Panasonic, was designed by noted young architect Akihisa Hirata, whose organic vision of living, breathing architecture reflects the open yet interdependent symbiotic cycles in nature.
The special site of Milano Salone del Mobile 2012 panasonic.net/milanosalone/

Head Office
Panasonic New Zealand
350 Te Irirangi Drive
East Tamaki, Auckland, 2013