Philips revolutionising home lighting with new LED light bulbs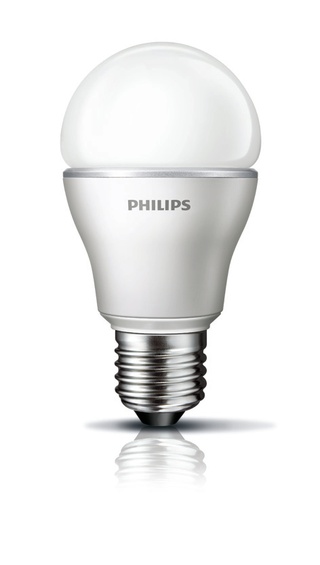 Philips today announced the New Zealand release of its LED (light emitting diode) range of light bulbs for the home. Delivering significant energy savings and with an exceptionally long life, LEDs are set to provide a step change in home lighting.
Philips' range of LED light bulbs use up to 80% less energy and can last up to 25 times longer than an incandescent bulb and are fully compatible with existing light fittings, making it hassle-free to make the switch.1 As well as presenting an opportunity for households to reduce their energy use, the Philips LED light bulbs provide ambience and comfort through high quality natural shades of white light.
LEDs are recognised as the future of home lighting but only recently have technological advances enabled the production of bulbs suitable for widespread residential use. With the bulbs now accessible to mainstream consumers, Philips expects at least 50% of global lighting to be LEDs by as early as 2015, and 75% by the end of this decade. 2
"LED light bulbs are incredibly efficient, produce an instant, warm white light and last a very long time – they are an excellent alternative to standard incandescent lighting, which is expensive to run and requires frequent replacement, so we're expecting a good response in the New Zealand market," says David Procter, Marketing Manager, Philips Lighting NZ.
Key features of the Philips LED home range include:
Energy efficiency: offers energy savings of up to 80% when compared to an incandescent light bulb. Even replacing a single light bulb with its energy efficient equivalent would save half a tonne of carbon emissions over the life of that bulb.
Long lifetime: has a life span of up to 25,000 hours compared with the 1,000 hours of an incandescent light bulb.
Safety features: the bulbs are compliant with RoHS (Restriction of the use of Hazardous Substances) regulations, and they contain no mercury or any other hazardous substances. The bulbs emit no ultra-violet or infra-red rays and illuminated items do not fade.
Innovative design: the bulbs use remote phosphor technology to deliver the same instant soft white light and shape people are familiar with in an incandescent bulb.
The new range of products being launched by Philips in New Zealand includes the Philips AmbientLED Clear Sparkle, AmbientLED Focused Beam, and 5W and 7W VisionLED Globes. The new range LED light bulbs will be available in DIY stores and selected supermarkets with prices ranging from $24.95 to $49.95.
1 Actual lifespan of the bulb is 25,000 hours and energy savings is calculated based on 2.5 hours per day. 2 Source: Philips Lighting Global Market Study 2009, updated for 2010
"While the initial cost for purchasing LED light bulbs is currently more expensive than for their incandescent equivalents, choosing a cheap, inefficient light bulb may be a false economy. Because an LED light bulb lasts up to 25 times as long as an incandescent bulb, and uses only one fifth of the energy, not only do you save on replacement costs, but you also save on your power bill throughout the LED's life," says Mr Procter.
The new Philips home LED light bulb range Philips Ambient LED Clear Sparkle The Philips AmbientLED Clear Sparkle is designed to be seen, and has a sparkling effect, making it ideal for chandeliers. This candle-shaped bulb provides comfortable warm white light and is dimmable with compatible dimming systems. With a power consumption of only 3W, the light bulb emits light output similar to a standard 15W incandescent bulb.
Philips AmbientLED Focused Beam The Philips AmbientLED Focused Beam is a dimmable state-of-the-art LED light bulb that can be used to enhance and accentuate home décor and objects in the home with soft white light. This LED light bulb is available in 7W that provides light brightness similar to a 35W MR16 LV halogen bulb with a focused beam angle of 36 degree.
Philips VisionLED Globes (5W version pictured) The Philips VisionLED Globe is ideal for everyday activities and tasks. It provides high quality, low glare light for task illumination and is available in warm white and cool day light bulbs. With power consumption levels available in 5W and 7W, the LED light bulbs emit light output similar to standard 25W and 40W incandescent bulbs respectively.
Sources: www.asimpleswitch.com (Green Switch Facts and Figures) www.rightlight.govt.nz
For further information, please contact:
Name: Anna Nuzum
Tel: 027 259 2724
E-mail: anna.nuzum@sweeneyvesty.com
About Royal Philips Electronics
Royal Philips Electronics of the Netherlands (NYSE: PHG, AEX: PHI) is a diversified health and well-being company, focused on improving people's lives through timely innovations. As a world leader in healthcare, lifestyle and lighting, Philips integrates technologies and design into people-centric solutions, based on fundamental customer insights and the brand promise of "sense and simplicity". Headquartered in the Netherlands, Philips employs 119,000 employees in more than 60 countries worldwide. With sales of EUR 25.4 billion in 2010, the company is a market leader in cardiac care, acute care and home healthcare, energy efficient lighting solutions and new lighting applications, as well as lifestyle products for personal well-being and pleasure with strong leadership positions in flat TV, male shaving and grooming, portable entertainment and oral healthcare. News from Philips is located at www.philips.com/newscenter.

Manufacturers and suppliers of innovative electronic products.
Learn more