Please join us at WantedDesign New York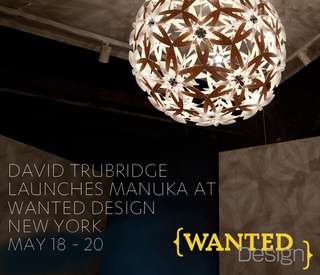 David Trubridge returns to WantedDesign for the third year, bringing 'The Elements' which has just been exhibited at the Milan Design Fair. Under wraps until recently, and being launched at Wanted, is a new light called Manuka. The light takes its name from a New Zealand native tree whose flower inspired the shapes that make up the light. Manuka comes in two sizes, 800mm (31.5") and 1100mm (43"). The largest one is designed with a web of LED lights attached to the flower forms which cast interweaving shadows onto the surrounding walls - who needs wallpaper?
'The Elements' installation comprises of Light Rain and Geode - hanging sculptural forms using Swarovski Elements crystals, acrylic and anodised aluminium - and Mount Ruapehu carpet made in collaboration with Tsar Carpets. Tsar are from Melbourne and will also be showing at WantedDesign.
WantedDesign is a international design event which has become an important meeting point for designers who are active players in the contemporay discussion of design.
Click here for more information

Regional Office/Distributor
David Trubridge Design
Cnr of Station Road and Groome Place
Whakatu, Hastings
Phone: 06 650 0...