Precision by Dexion launches Strata 2 Cabinet range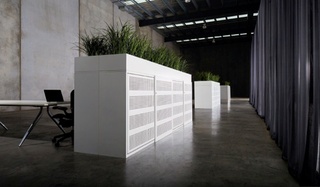 In November 2013, leading storage and materials handling specialist, Precision by Dexion will launch a new range of Strata 2 Cabinets offering flexible, streamlined and environmentally friendly storage solutions for the modern workplace.
Precision by Dexion understands that workplaces today are continuously evolving, which is why all four cabinets in the new range have been designed to seamlessly accommodate these changing requirements.
Flexible modular design
The Strata 2 Cabinets boast a flexible modular design that easily integrates into standard office layouts. Featuring consistent dimensions and aesthetics, these sleek new cabinets are perfectly complimented in any combination setting.
Their compact design, combined with slimline top and floor plinths maximise storage capacity, whilst minimising environmental impact. All cabinets are constructed with steel to guarantee strength and improve security, whilst reducing the profile of the design.
Precision is assured with adjustable levelling feet that align the cabinets when either banked together or integrated with other office furniture. The cabinets can also define office layouts and act as alternatives to screens.
All cabinets are finished with hardwearing, durable powder coats to withstand the test of time. Acoustic door panels are available to provide enhanced acoustic absorption in noisy environments.
Like all quality Precision by Dexion products, the Strata 2 Cabinets are designed and manufactured to meet New Zealand standards. Cabinet components are easy to disassemble and replace, minimising cost and extending the lifetime of the product.
Environmentally efficient: GECA certified
All cabinets in the new range are GECA certified, meaning they have been independently tested and meet the performance criteria required to contribute towards earning points for Green Star certification.
The cabinets are packaged in 100% recyclable material, which further minimises environmental impact. Product stewardship programs are also available to assist workplaces in reducing their carbon footprint.
Security guaranteed
The Strata 2 Cabinet range is designed to offer workplaces absolute piece of mind when it comes to security. A removable barrel locking system with 3,000 key combinations and master keys ensures the secure storage of cabinet items.
The introduction of a folding key feature also creates an unobtrusive design when left on the cabinet door. Precision by Dexion's standard microban keys prevent 99% of surface bacteria growth.
Accessories for every application
The Strata 2 Cabinet range comprises an extensive range of accessories to suit all cabinets in the Strata 2 range. These include: roll out suspension filing frames; shelf dividers; shelf filing racks; media drawers; coat rails; bin fronts; lockable castor kits, and roll out reference shelves.
These accessories cater to every application and are interchangeable across the entire range. All cabinets integrate with Precision by Dexion's Planter box range, which offers a contemporary way of incorporating plants into the workplace.
Precision by Dexion Strata 2 Cabinets product range
There are four new products in the Precision by Dexion Strata 2 Cabinet range, all of which are comprised of a common carcass so that the doors can be interchanged. These are:
Strata 2 Sliding Door Cabinet
Strata 2 Tambour Door Cabinet
Strata 2 Swing Door Cabinet
Strata 2 Bookcase Cabinet
Precision by Dexion Strata 2 Sliding Door Cabinet (available November 2013)
Press photo: Precision by Dexion Sliding Door Cabinet configured with Precision by Dexion Planter
The Strata 2 Sliding Door Cabinet is the latest sleek addition to the Precision by Dexion Cabinet range. Designed with office refurbishments and fit outs in mind, this cabinet is effortlessly incorporated into workstation or smaller office areas where space optimisation is essential.
The cabinet's sliding doors are perfectly suited to aisles because they do not impede walkways. They are uniquely designed to ensure a smooth, quiet sliding door operation. The bevelled handle is also ergonomic so it's easy to use.
The GECA certified Sliding Door Cabinet features perforated doors with an acoustic sound absorption panel as standard. The perforated design creates a modern aesthetic, whilst acoustic panels enhance sound absorption.
The Sliding Door Cabinet is stocked in White Satin and available in a wide range of custom colours.
Precision by Dexion Strata 2 Tambour Door Cabinet (available November 2013)
The Strata 2 Tambour Door Cabinet features perforated doors that retract into the side of the cabinet. This clever design means that aisles are left unobstructed. The retractable doors make this cabinet perfect for offices where space is at a premium.
Equipped with signature slimline handle design, the cabinet is available in a range of colours, including a GECA certified, ABS translucent slat. Precision by Dexion is currently the only brand in the market to offer GECA approved translucent slats.
The Cabinet boasts innovative full height magnetic strips on the doorposts to ensure tight, secure closure and a smooth finish when doors are closed. Dual point locking further ensures the secure storage of files.
Offering complete flexibility for ever-changing workplaces, the Tambour Door Cabinet can be easily converted to a Bookcase or Swing Door Cabinet.
Precision by Dexion Strata 2 Swing Door Cabinet (available in November 2013)
The Strata 2 Swing Door Cabinet is equipped with reinforced door panels, concealed hinges and an enclosed doorframe design for added strength and security. It also features a full height recessed handle providing a functional grip, whilst maintaining a modern, simple aesthetic.
Again, flexibility is assured as the Swing Door Cabinets can be easily converted to Tambour Door or Bookcase Cabinets.
Precision by Dexion Strata 2 Bookcase Cabinet (available in November 2013)
Ideal for showcasing its contents, the Strata 2 Bookcase Cabinet can be effortlessly converted to a Tambour Door or Swing Door Cabinet should the office require a secure cabinet with doors.
For more information, visit www.precisionbydexion.co.nz or call 0800 800 059.

Head Office
Dexion
PO Box 91001 AMSC 1142
17-19 Nixon street
Grey Lynn, Auckland, 1021
Phone: 09 360 3...