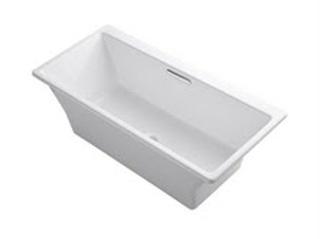 Skilled artisans are using a 139-year heritage in metal work to produce a new range of freestanding, highly contemporary, enamelled cast iron baths. Kohler's Rêve cast iron freestanding bath, with its clever mix of traditional metal casting techniques and minimalist streamlined styling, offers a deeply luxurious bathing experience designed for 21st century bathrooms.
While a definite nod to vintage materials and handcrafts, it is a very sleek, modernist design with geometric, faceted lines, wider back ledge for generous storage of bathing products and elevated plinth to increase the architectural statement of the piece.
And while utilising techniques that are more than 139 years old, the Rêve benefits from some very recent technological advances – namely the hand-applied enamelling process that ensures the surface won't chip or crack. The unique enamel surface is ultrathick, with a lustrous, deep finish that is smooth on the skin, slipresistant and timeless in its appeal.
A key advantage of the Rêve cast iron bath, apart from its looks, is that the richly enamelled cast iron retains the temperature of the water for longer than many other freestanding baths.
The Rêve freestanding bath, measuring 1700mm x 800mm, is the latest addition to the Reve collection of basins and toilets and features the same design aesthetic and the same attention to faultless detail.
The Reve collection, including the cast iron freestanding bath that retails for $4739, is available nationally from Kohler Design Centre, Auckland plus Mico stores nationally.

Since 1873, Kohler has been leading the way with design and innovation for bathrooms and kitchens.
Learn more
Head Office
Kohler
133 Diana Drive
Glenfield, Auckland
Phone: 09 980 6...
Regional Office/Distributor
Kohler Design Centre
Level 3, 65-73 Parnell Rise
Auckland
Phone: 09 336 1...