Resene partners with Nuevo Technology
New Zealand paint manufacturer, Resene, has taken an equity position in the Houston-based technology company, Noel Group Inc. – a group whose New Zealand connections extend back many years. Central to this move is the establishment of a joint venture with Nuevo Technology Ltd, a clean tech R&D engineering company located at Callaghan Innovation's Wellington campus and a wholly-owned subsidiary of the Noel Group Inc.

Nuevo's prime focus is in the area of novel Ultra High Pressure, low volume waterjet technology which is used for the cleaning and rejuvenation of a wide variety of surfaces. Nuevo's materials research has identified a powerful anti-adhesion technology with high potential in multiple global markets.

Nuevo's Managing Director, Hamish Clark, believes the partnership "is a perfect synergy that allows Nuevo to focus its R&D efforts on the opportunities that Resene has identified – opportunities that have been validated by Resene's unique market position and a deep understanding of the needs and challenges of the industry it knows so well."

Nuevo's parent company, Noel Group Inc. is located in Houston, Texas. CEO, Stacey Horne, is also "very pleased and excited about the partnership forged with Resene and the wide-ranging strategic connections that will result, both in Australasia and the United States."
"Resene's reputation as an innovator in the paint and coatings industry is richly-deserved. The combination of this and the commonality of business acumen and corporate culture within our organisations points to a very bright future indeed with a high probability of mutual success."

Nick Nightingale, Managing Director of Resene, had this to say about the partnership and the reasons behind Resene's investment and support: "Since our inception we have targeted innovative technology to expand and improve our paints and coatings offering. The relationship with the wider Noel Group, and particularly the New Zealand-based Nuevo, will open a number of possibilities. We are genuinely excited to have this opportunity and further to be supporting, and part of, the commercialisation of New Zealand research and development. NZ Inc if you will is the icing on the cake."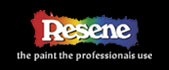 Paint, coatings and wood stain manufacturer.
Learn more