Second bathroom gets new profile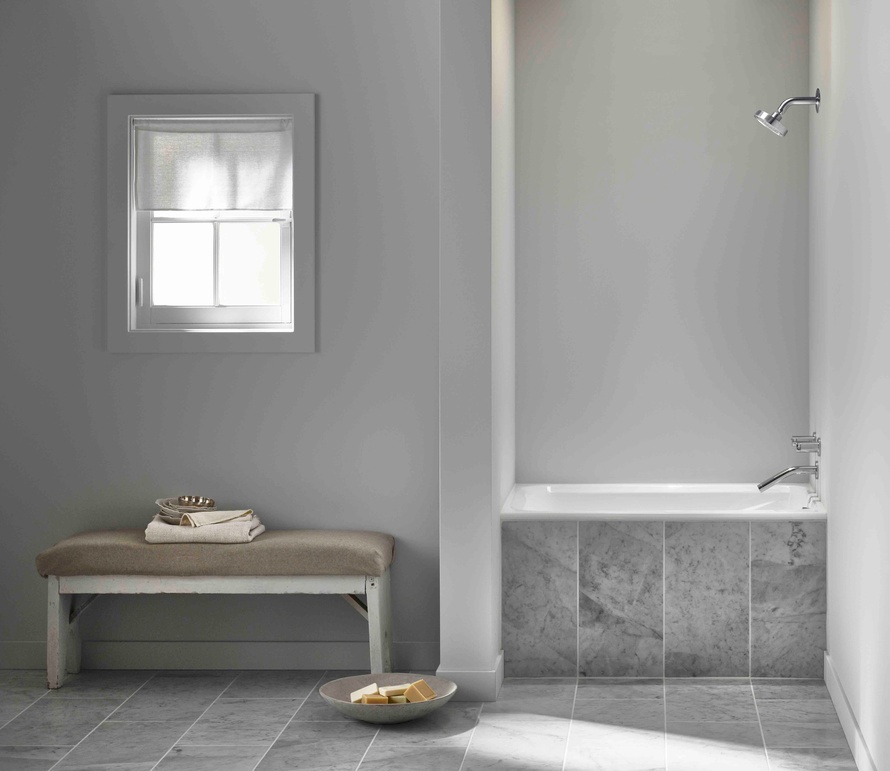 The master bathroom has been the focus of renovation attention lately – experiential showers, luxurious fittings, glamorous freestanding baths and sculptural mixer taps feature prominently. Simultaneously the second bathroom – usually the domain of the children and guests – has evolved into the 'wet room' workhorse having to accommodate high traffic ablution needs in an often less than spacious footprint.
Kohler, global leader in bathroom product design, notes consumers are selecting space saving fixtures for these areas that are rich in clever features, understated design and ongoing savings in terms of water conservation.
Multifunction showers are top of the list, sometimes with dual heads to offer more practical options for smaller children. Wall mounted tap fittings are also a big favourite due to their ease of cleaning and de-cluttered visual aesthetic. Baths are often out of the mix due to space restrictions so a deep shower hob can be substituted which will offer a bathing option for smaller children.
The cleverly designed Flipside showerhead, which offers four different spray patterns simply by flipping the head, is a clear favourite according to Kohler. The Flipside's excellent three star WELS rating and exceptionally simple, pared back design are two key factors in its popularity. The Rain Duet Shower Column is another popular choice for its combination of an overhead shower with Katalyst spray technology plus a versatile handshower. The Katalyst technology delivers a drenching 'rainshower' experience while still only using nine litres of water a minute while the handshower is ideal for rinsing off and for younger children's hair washing.
Wall-mounted tap fittings that offer the perfect mix of understated style and efficiency are the Stillness and Viteo collections. Each has perfectly matching basin, bath and shower sets in both wall and hob mounted versions – the consistency of styling is another vital factor in reducing visual clutter in a confined space.
The final element in a smaller bathroom space is the toilet – the wall faced design of the Panache places the cistern inside the wall which dramatically streamlines and declutters the entire aesthetics of the bathroom. It also offers an excellent four star WELS rating with an average flush of just 3.4 litres.
All of the bathroom pieces mentioned are available exclusively from the
Kohler Design Centre, Auckland and Mico stores nationally.
Prices are:
Kohler Flipside shower rose, 3 star WELS $265
Kohler RainDuet Shower Column, 3 star WELS $786
Kohler Stillness wall mounted basin mixer, 4 star WELS $691
Kohler Stillness wall mounted bath/spa set $799
Kohler Viteo wall mounted basin set , 5 star WELS $319
Kohler Viteo wall mounted bath set $425
Kohler Viteo shower mixer $250
Kohler Panache wall faced toilet, in wall cistern, 4 star WELS, from $840
For details go to www.kohler.co.nz or www.micobathrooms.co.nz

Since 1873, Kohler has been leading the way with design and innovation for bathrooms and kitchens.
Learn more
Head Office
Kohler
133 Diana Drive
Glenfield, Auckland
Phone: 09 980 6...
Regional Office/Distributor
Kohler Design Centre
Level 3, 65-73 Parnell Rise
Auckland
Phone: 09 336 1...