Selector Product of the Show Awards winners announced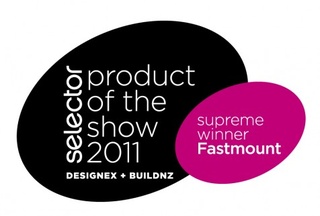 Judges for the inaugural Selector Product of the Show Awards chose Fastmount from Forman Building Systems as Supreme Winner from exhibitors at Buildnz Designex 26-28 June 2011 who entered the competition. Entries were judged on how innovative, functional and well-designed products were.
A number of entries were received for Selector's first awards programme which was created to recognise the best products on display at Buildnz Designex.
Judges Wingate Farquhar architect Blair Farquhar, Clearwater Construction general manager and NZ Institute of Building president Martin Fahey and Progressive Building magazine editor Jazial Crossley were impressed with the caliber of products entered.
Flexible clip system for hidden mounting of removable ceiling and wall panels Fastmount stood out from the high quality of finalists for being unique and having multipurpose application.
The system allows panels to be easily removed to access services or reconfigure design. It is suitable for prefinished, painted, covered, acoustic, feature panels and fixtures. Locally developed Fastmount has many possible uses but has been particularly successful in foyers, retail stores, hotels and showrooms.
"Fastmount is unique because the mounting system is invisible, with all fixings hidden," Mr Farquhar said. "There is nothing else on the market like it."
The Selector Product of the Show Awards had two categories, one for Buildnz exhibitors and a second category for Designex exhibitors. Three finalists were selected for each category, then narrowed down to one winner for each category. Fastmount was the winner in the Buildnz category and chosen as the overall winner for the Supreme Award.
Designex category winner was Resene's New Zealand-developed Write-On Wall Paint, a low-VOC clear finish product that can be painted over any colour to transform it into a whiteboard style surface. Its application is excellent for schools, workplaces, homes with children and a variety of scenarios.
"It's a fantastic product," Mr Fahey said. "I wish it had been around when my kids were small."
Its flexibility impressed judges, because it can be used over all colours of paint. Whiteboard markers write on it well when painted over light coloured surfaces and liquid chalk can be used to write on darker surfaces, with writing easily removable.
The judges were all particularly impressed with Designex finalist Cavius Miniature Smoke Detector's small size, use of photoelectric technology and handy ten minute pause button.
"It was tough narrowing the finalists down because they all showed a high standard of design and functionality," Ms Crossley said. "But Fastmount's many uses, aesthetic appeal and durability made it overall an excellent product to win the Supreme Award."
Buildnz Designex 2011 is the premier product showcase for the building and design industries, taking place this year from June 26-28 at Auckland's ASB Showgrounds.
Removable ceiling and wall panel flexible clip system Fastmount from Forman Building Systems won the Buildnz Product of the Show category and the Supreme Award for best overall product exhibited.
Judges said these insulating glass spacers and thermal insulating strips reduced heat loss and condensation which was important to New Zealand buildings, resulting in energy savings and warmer buildings as well as reduced noise pollution.
Judges liked that this sound absorption product was made from 94% recycled glass, had the durability to be used both on interiors and exteriors and had the flexibility to be cut to a wide range of sizes.
Judges liked the flexibility of application of this product and that it was low-VOC.
This is the smallest smoke alarm in the world. Judges liked its use of the latest photoelectric technology, small size, attractive design, five year long battery life and ten minute pause function.
Well-designed disabled toilet Caroma Care 800 Invisi II is the most stylish toilet of its type on the market. Most disabled toilets leave pipes exposed due to the distance it needs to be from the wall to meet New Zealand regulations. This toilet appears attractive while meeting guidelines without the need for exposed pipes or false walls.

A powerful online product resource for specifiers, and design and building industry decision makers.
Learn more
Head Office
AGM Publishing Ltd
409 New North Road
Private Bag 99915, Newmarket
Kingsland, Auckland
Phone: 09 846 2...