Semi industrial bathroom chic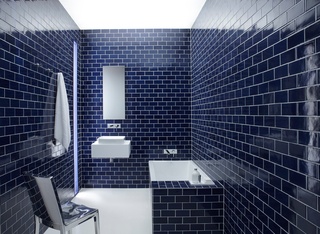 One of the latest looks in bathrooms has been heavily influenced by the GFC (Global Financial Crisis) according to some – whatever the reason, the return to an almost semi-industrial look with strong lines, clean colour and a hint of timeless, vintage aesthetics hits the sweet spot.
Typical of the look is the use of subway tiles, low-profile basin, wall-mounted tap fittings and built-in bath. The entire fit-out supports the theory that a busy bathroom should, above all, be practical and bare the brunt of high traffic while maintaining its original good looks.
Features such as floating vanities (wall hung) and wall-mounted tap fittings ensure cleaning requires minimal effort. The glossy wall tiles and white floor meanwhile are light reflective and contribute to maximising the sense of light and hygiene within the room.
Kohler's new collection of pin lever tapware – Viteo – perfectly fits this genre. Comprising wall mounted basin and bath sets plus basin mounted single lever mixer tap, the range features strong, clean lines with elegant pin lever mixer handle. There are also matching shower and bath mixers with and without diverter.
The entire range is finished in Kohler's renowned polished chrome – including escutcheons (back plate) for wall mounted fittings – noted for its resistance to both tarnishing and corrosion.
The Viteo wall mounted basin mixer features a five star WELS rating, using a maximum six litres of water a minute, while the single lever basin mixer has a four star WELS rating.
Teamed with the Viteo basin mixer is the beautifully simple, low profile Forefront basin. Measuring 413mm square the Forefront's slender, unembellished lines bring a contemporary elegance to what is a quintessentially utilitarian appliance.
Kohler's Viteo tapware collection and Forefront basins are available from the Kohler Design Centre, Auckland plus Mico stores nationally.

Since 1873, Kohler has been leading the way with design and innovation for bathrooms and kitchens.
Learn more
Head Office
Kohler
133 Diana Drive
Glenfield, Auckland
Phone: 09 980 6...
Regional Office/Distributor
Kohler Design Centre
Level 3, 65-73 Parnell Rise
Auckland
Phone: 09 336 1...