Solatube becomes only BRANZ appraised daylighting product
Locally owned healthy home solutions company HomeTech today announced that its flagship daylighting product Solatube has become the only product of its type in New Zealand with BRANZ Appraisal.
Solatube is a Tubular Daylighting Device (TDD) that provides an abundance of pure, natural light to interior spaces. Its complete roof to ceiling system captures daylight in a small roof top dome and then redirects it down a reflective tube that delivers clean, white light to the inside space. The Solatube system's breakthrough sustainable technology ensures that consistent light is evenly filtered into the interior space without using electricity.
Mike Cullen, HomeTech's National Trade Manager said: "We are delighted that Solatube has been recognised by BRANZ in this way. Receiving BRANZ Appraisal of the Solatube product is an independent endorsement of its high quality. No other daylighting product has this appraisal; it is truly an innovation in daylighting."
Solatube technology is different from competitor products in a number of ways. Solatube use reduces electrical demand by cutting the need for electrical lighting. Its compact size ensures heat loss or gain is minimal with units having an R Value of 0.4 and makes it perfect for those hard to light and 'forgotten' spaces. Furthermore, the amount of daylighting output can be varied to personal requirements with an incremental daylight dimmer.
The Solatube Daylight Capturing Surface is also larger than that of traditional skylights with the use of Raybender Technology and the patent Reflector. With the Solatube, daylight can be redirected horizontally and vertically, increasing application possibilities.
Solatube provides effective lighting, in a cost-effective and sustainable way. They can be installed quickly and with a minimum of fuss – there is no need for any structural reframing, dry walling or painting.
The BRANZ appraisal [No: 655], completed in late 2009, independently tested the Solatube System and Roof Penetrations for New Zealand conditions and found it fit for purpose and compliant with the building code. The Solatube installation process was also appraised by BRANZ.
"We are really proud of this product and the way that it has revolutionised the way residential and commercial spaces can be lightened and brightened. Obtaining BRANZ appraisal further cements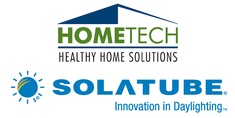 Suppliers of daylighting, condensation, heating and attic stair solutions.
Learn more