Solatube: Switching lights off for earth day, every day
SOLATUBE: SWITCHING LIGHTS OFF FOR EARTH DAY, EVERY DAY!
Locally owned healthy home solutions company HomeTech is encouraging New Zealanders to get behind Earth Day and make a positive change for the planet each and every day by installing a Solatube Daylighting System; a 'green' lighting solution that draws no power.
Solatube is a Tubular Daylighting Device (TDD) that provides an abundance of pure, natural light to interior spaces. Its complete roof to ceiling system captures daylight in a small roof top dome and then redirects it down a reflective tube that delivers clean, white light to the inside space. The Solatube System's breakthrough sustainable technology ensures that consistent light is evenly diffused into the interior space without using any electricity.
Mike Cullen, National Trade Manager for HomeTech said: "The aim of Earth Day is to inspire awareness and appreciation for the Earth's environment. Our Solatube Daylighting System provides the ultimate eco-friendly lighting solution that allows homeowners to brighten their homes using natural light, while reducing their energy consumption by switching off electric lights. With Solatube, everyday is Earth Day!"
In honour of Earth Day 2010 (22 April), which is the 40th Anniversary of the event, HomeTech/Solatube is offering an instant $150 'Greenbate' on any Solatube purchased.
Each year, around 15 percent of a typical family home's energy bill is spent on lighting. Through the use of a proven and efficient daylighting system, like Solatube, homeowners can displace the need for electrical lighting throughout the day.
Tubular Daylighting Devices (TDDs), such as the Solatube Daylighting System, cost nothing to operate, making them significantly more sustainable than even the most energy efficient halogen light.
"With Daylight Savings recently coming to an end, we have fewer daylight hours. Accordingly, traditional light fixtures are being switched on sooner, resulting in higher power bills. Installing a Solatube Daylighting System will expand the daylighting functions of a home, all while using less power."
HomeTech Solatube's Top Power Saving Tips: Turn off the lights. Lighting uses around 15% of electricity in homes. Turn off the lights with Solatube Daylighting Systems and reduce your electricity use.
Capture daylight. Daylight is the most cost-efficient form of lighting as it's free!
Minimise heat gain and loss. The Solatube Daylighting System has minimal heat gain and loss. Traditional skylights cause heat gain in the summer and leak heat during winter. Using a Solatube Daylighting system reduces electrical demand.
Maintain lights. Regularly clean your lights and their fittings, and replace bulbs as they near the end of their life. Excess dust can reduce lighting efficiency by up to 30%, and as light bulbs degrade, they get dimmer while still using the same amount of energy. Solatube Daylighting Systems require no maintenance.
Visit hometech.co.nz or solatube.co.nz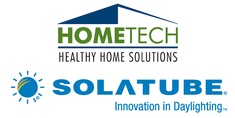 Suppliers of daylighting, condensation, heating and attic stair solutions.
Learn more