Sony introduces new line of ultra-high speed memory cards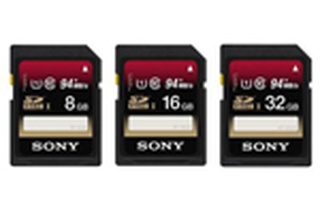 AUCKLAND, 14 FEBRUARY 2012 – Photographers of all levels now have the perfect companion for their DSLRs with the launch of the Sony UHS-I Class 10 SD memory cards. The new series of SD memory cards from Sony boasts an Ultra-High Speed (UHS-I) interface that allows for a faster read speed of up to 94MB/s1 and write speed of 45MB/s2 to meet users' requirements when continuously shooting or recording HD videos3.
Based upon Sony testing using SD Association certified testing tool. Transfer speeds vary and are dependent on host device.

Except for the 8GB model, which has a write speed of 22MB/s.

Memory cards maintain a Class 10 (minimum non-fragmented sequential write speed of 10MB/s) capability when used with devices not compatible with UHS-I interface.
The flagship memory cards offer a high level of reliability and compatibility. The cards, which can be used with Secure Digital High Capacity (SDHC) and Secure Digital Extended Capacity (SDXC) Memory Card compatible products, are also durable, water-proof and have a wide range of operating temperatures.
"Sony has always been committed towards bringing ground-breaking data storage products to our customers," said Leonard Gildenhuys, Product Manager, Recording Media & Energy. "While high transfer speeds remain the top priority, we strongly believe in developing reliable storage media as well, and our new line of UHS-I memory cards certainly fulfils both of these objectives."
These new memory cards will also feature a unique Sony File Rescue Software, which is the first in the world to support 3D movies and photos, as well as Full Advanced Video Coding High Definition (AVCHD) 60p video files. The software allows users to recover precious photos and movies that were accidentally deleted.
Available in storage capacities of 8GB, 16GB and 32GB, the UHS-I memory cards will be available in New Zealand from March 2012.
For further information please contact:
Dean Allen
Sony New Zealand
021 488 127
Dean.allen@ap.sony.com

Head Office
Sony New Zealand
PO Box 100045
North Shore Mail Centre
Auckland, 1330
Phone: 09 488 6...