Stormwater run-off nurtures trees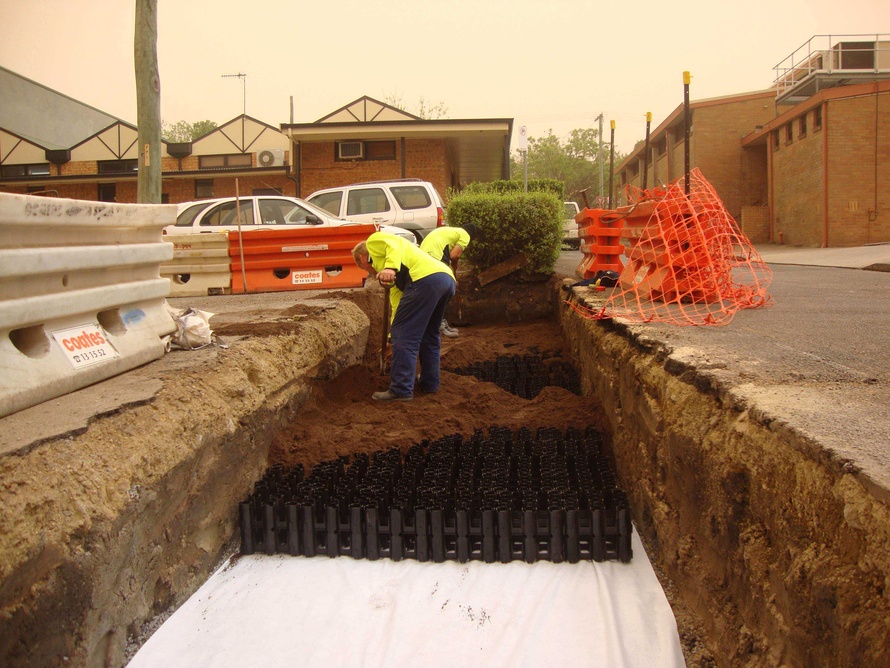 Stormwater run-off nurtures trees protected by RootCells in Newcastle laneway.
Rainwater run-off is being used to irrigate trees that line a car parking laneway adjacent to Cromwell Street in Newcastle.
The permeable paving, with 5 mm gaps between the paving stones, allows stormwater to seep through into the root system of the trees, which are being protected and supported by RootCells from Arborgreen Landscape Products.
Japanese zelkova trees were planted in soil above the RootCells that provide rigid structural space filled with soil for the roots to grow into. The cells prevent the roots from being compressed by traffic above and ensure they receive vital nutrients, including water and oxygen.
This gives the new trees the best chance of healthy life in the city environment, while also protecting the pavements and roadways.
"Root disruption to city pavements is a common problem," said a spokesperson for Arborgreen. "The council had previously used another root support product for its street trees, employing small ballast to protect the pavement while allowing the roots to grow. For Cromwell Street, they decided to go with the RootCells as a trial.
"The trees were planted in the spring, established themselves last summer and have thrived since then. Typically, the council gives its new trees two years of irrigation, then after that they're on their own."
Newcastle has also used RootCells in Tyrell Street, where about 20 trees were planted, in Hunter Street, and in Scott and Merewether Streets. The trees have grown well in these locations.
Root Directors adjacent to the RootCells ensure that the growing roots enter the cell structure and don't grow upwards, intruding into the substrata and eventually buckling the paved surface.
RootCell tree root protection products are attracting increasing attention in all states of Australia and throughout New Zealand, according to supplier Arborgreen Landscape Products. Many arborists and landscape architects are now recognising that the modular, structural soil cells represent current best practice for trees in cities.
The new, patented StrataCell™ Generation IV RootCell is the strongest module of its kind available globally, Arborgreen said.
"This unique module incorporates all of the benefits of the previous RC120 RootCells utilised in this project, with the added advantages of larger spaces for root growth, faster installation times, and reduced shipping costs," said the spokesperson.
Visit CityGreen for more information about this product or email paul.m@arborgreen.co.nz

Arborgreen works closely with Landscape Architects, Arborists and Engineers to provide successful Urban Tree Planting solutions
Learn more