The great benefits of positioning Altair Louvre Windows up high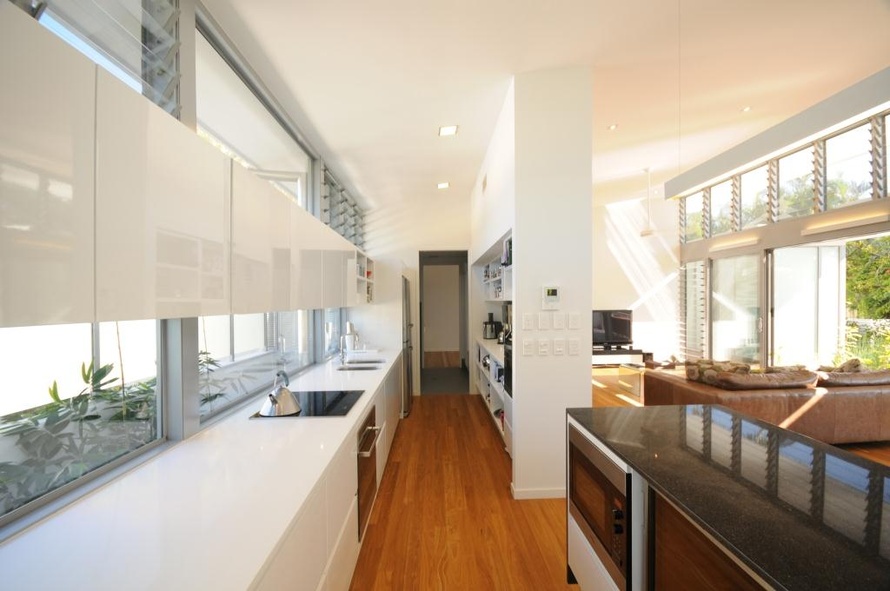 It's not uncommon to see short, wide windows (particularly Altair Louvre Windows) installed near the ceiling and above head height. These windows are commonly known as highlight or clerestory windows and besides looking great, they also offer a number of specific benefits.
Benefit 1: Create a thermal chimney to naturally cool your building.
Inside a building, the air near the ceiling is generally warmer than the air near the floor. Positioning Altair Louvre Windows near the ceiling provides a way for warm air to flow out of the building which encourages cool, outside air to be drawn in through the lower windows.
Benefit 2: Ventilation, light and privacy.
Positioning Altair Louvre Windows above head height results in vertically angled sightlines. This means that the only thing that neighbours can see is your ceiling! This privacy removes the need for blinds or curtains and allows ventilation to be maximised while maintaining privacy. Another benefit is that they give pleasant diffused light.
Benefit 3: Light, ventilation and security.
There are plenty of options for making Altair Louvre Windows more secure, but the simple fact is that a window that is out of reach is a more difficult and therefore unpopular target for intruders. If you decide to include highlight or clerestory windows in your building, here are two things to consider…
Option 1: Altair Powerlouvre Windows
Option 2: Ring Handle + Map Rod
Option 3: Low Profile Handle + Map Rod
To read this article in full, click here.
Breezway has been designing and manufacturing louvre windows since the 1950's.
Learn more