The perfect match: Simon Wright & Electrolux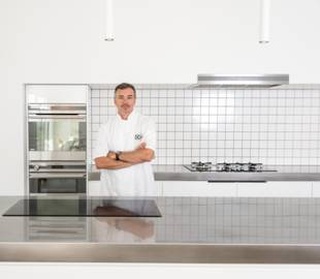 Premium European heritage, design-led ethos and thinking about their customers' needs, these are true of both Electrolux home products and Simon Wright, owner and Executive Chef of The French Café.
Building on what they have in common, the pair has joined forces to create The French Kitchen, the next evolution of restaurant icon, The French Café. Over the last year Electrolux has worked closely with Simon Wright to bring to life his vision for this long awaited evolution of The French Café, providing kitchen appliances and kitchen design for The French Kitchen. The duo has developed plans and activities that will change the way New Zealanders view both home and professional cooking, creating a serene and light-filled space where New Zealanders can sit down to an interactive experience where Simon literally joins the dinner party.
The minimalist, open-plan all-white kitchen uses a range of domestic Electrolux appliances rather than professional equipment. To work within this serene space, the equipment needed to blend in seamlessly with the interiors and be quiet yet highly effective – all things the Electrolux domestic range delivers in spades.
"I love this Electrolux kitchen, it has surpassed my expectations beyond imagination and like everything you see in The French Kitchen, a great deal of time and consideration went into choosing and designing its look and feel. It was particularly important for me to be using the best possible cooking equipment and I'm so happy with the result," says Simon Wright. "I hadn't worked with a domestic steam oven previously so the Electrolux Combination Steam Oven has been the best introduction. It looks great and it's compact, simple to use and quick to heat. In just seven minutes I can produce a fillet of fish steamed to perfection.
The Maxisense Induction hob is incredibly responsive and probably one of the most precise and intuitive pieces of cookware I've ever used, especially when it comes to temperature control. It also keeps liquid at a constant temperature allowing me to sous vide or poach meat too – I don't know how they do it, but it's magic."
The French Kitchen includes Electrolux Conventional Ovens, Combination Steam Ovens, both gas and induction hobs and an extraction fan, all of which are available for the home cook at retailers throughout New Zealand. The collaboration will see Simon Wright showcasing Electrolux appliances at a variety of special events at The French Kitchen over the coming year.