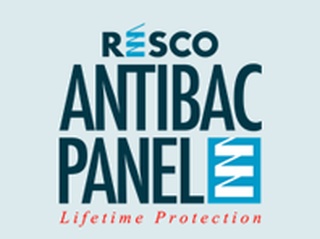 Here's a revolutionary new product that has caused a scientific double-take, and is stretching the boundaries on what levels of hygiene are possible, even in heavily used areas such as public toilets.
Resco's Antibac Compact Laminate panels contain innovative silver ion Biocote technology that can kill 99.99% of bacteria for the lifetime of the panel.
When Waikato independent microbiologist Dave Malcolm was asked to test this new product he was doubtful of the bacteria-termination claims. "It sounds too good to be true," he recalls saying. But, as the results of the accelerated lifecycle lab tests prove, it wasn't. He tested according to the international standard: JIS Z 2801:2000 (Antimicrobial products - test for antimicrobial activity and efficacy).
Silver ions are already widely used as antibacterial agents in medical devices such as implants and wound dressings, in water and air purification systems and on food preparation and storage surfaces. The silver ions interrupt the replication ability of proteins within the bacteria, making them inactive. The Biocote silver ion technology within Resco's Antibac panel is effective against a wide range of microbes and, unlike manually applied cleaning products, works continuously.
Many diseases can be spread through touching surfaces contaminated with disease causing bacteria from other people. In high-use areas, the risk is multiplied many times, even with frequent cleaning. With their Antibac panels now available, Resco is genuinely offering an economic solution to establish more hygienic, cleaner, safer facilities. The benefit for organisations such as District Health Boards, schools, councils and private companies is clear, and significant.
Resco's Antibac compact laminate panels are available in a range of colours for both the 'Multicom' wall lining system - that's a 6mm panel and 13mm panel – which is used mainly for toilet and shower cubicles. Resco are also now manufacturing Antibac components for a company for use within the health industry.
For more information contact:
Troy Henriques – Product Specialist
Resco Limited
23a The Boulevard, Te Rapa, Hamilton 3200
T: 0800 800 950 T:07 850 1025 F: 07 850 1026
To view our product range: www.resco.co.nz

Manufacturer and distributor of a range of toilet and shower cubicles, wall linings, vanities, screens, lab benches, as well as custom manufacture jobs using compact laminate panels.
Learn more