Transform your home with the new Philips LivingColors LED lights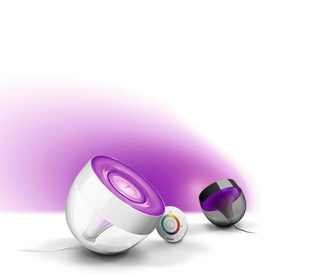 Auckland, New Zealand – Philips Lighting has introduced two new products to its LivingColors range, the LivingColors Iris and Micro, enabling you to add personalised lighting effects and ambience to your home.
David Procter of Philips Lighting New Zealand says, "LivingColors lets you stay up to date with design trends and create your own look for your home through coloured light. Based on advanced LED technology, they last much longer than traditional lamps and consume significantly less energy than conventional lighting."
With the Philips LivingColors Iris, you can choose from up to 16 million coloured light options. Additional features such as SmartLink enable you to link up multiple LivingColors devices and control them through one remote control, giving your home a unique look and feel throughout.
LivingColors Iris is also dimmable, which means you can switch between warm and bright light effects, and has backlighting for optimal mood creation. The Iris comes with a new "favourite scenes" feature which lets you store your favourite colours via the "favourites" button on the remote control, making it easy to recall your favourite themes for future occasions.
"With the reduction in price point of this next generation of Philips LivingColors, combined with the lower running costs of LED compared to traditional lighting, this is an affordable way to add some flair to your home's interior design," says Procter.
The LivingColors Micro is a smaller, more compact model. The Micro is ideal for lighting small areas such as cupboards and hallways and can also be used as a night light. The Micro has a choice of 64 colours delivered via LED technology. LivingColors Micro consumes only 4.7 watts of power but produces 50 lumens to provide a pleasant diffused light.
The Philips LivingColors range is available from February through specialist lighting stores and select Guthrie Bowron stores.
For a demonstration of what you can do with LivingColors, click here: http://www.philips.co.nz/e/lighting-makeover/how-tos-overview/how-to-living-colors.html

Manufacturers and suppliers of innovative electronic products.
Learn more