Wanganui artist Sue Cook one of NZ's foremost printmakers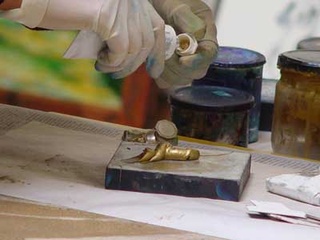 Wanganui artist Sue Cooke, with whom Art Associates has had a long-standing relationship, was recently nominated to produce a large-scale installation for the Serjeant Gallery in Whanganui in 2013. The work will be called Wonderland and is expected to cost upwards of $20,000.00 to create and install. Hence, Sue is currently fundraising to cover those costs and, being the inventive and driven person she is, has decided to have a 3-day only sale of her artworks held with various dealers around the country as well as in her own studio in Whanganui to raise the necessary funds.
Art Associates has a limited amount of Sue's etchings and for 3 days only (March 3rd, 4th & 5th) the retail price of those works will be reduced by 30%.
For those of you interested in supporting contemporary art practice in New Zealand and owning a work by one of New Zealand's foremost printmakers, please register your interest with us as soon as possible.
Information about Sue and her practice, as well as images of works available for sale can be found here http://www.artassociates.co.nz//sue-cooke.aspx