WE-EF introduces mini-LED projector to complement FLD100 series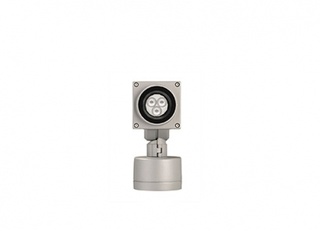 WE-EF is proud to present the new FLD111, a compact 6-watt LED projector with a nominal luminous flux of up to 607 lm. The square luminaire body measures just 95 mm x 95 mm and has a depth of 55 mm. Despite its compact dimensions, the FLD111 achieves high visual performance with only three LEDs. Its small size makes it ideal for use in discrete architectural installations or limited spaces. It is available in both 3000 K and 4000 K colour temperatures.
Like all symmetric LED luminaires from WE-EF, the FLD111 comes equipped with high-efficiency LED lenses and features a versatile choice of beam distributions: [M] medium; [EE] very narrow; and [EES] very narrow, 'sharp cut-off'. Following the same design style as the larger 12-watt FLD121 and the 24-watt FLD131, the FLD111 is a welcome addition to this series of symmetric LED projectors.
The FLD100 LED projector series features an IP66 rating as well as optical accessories that can be precision-adjusted for a wide array of exterior lighting tasks.
WE-EF's quality concepts including the use of corrosion resistant die-cast aluminium, the 5CE corrosion protection system, a weatherproof and durable sealing technique, and an effective LED thermo-management system ensure a long and maintenance-free service life.

Luminaires that provide effective and innovative solutions for architectural lighting challenges.
Learn more