World Architecture Festival Awards shortlist announced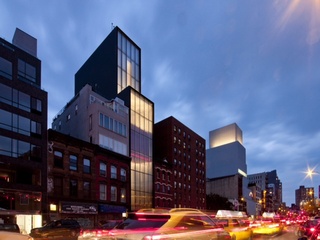 A theatre made of straw in Estonia, a soccer school in Soweto, a tree hotel in Sweden, a bamboo office in India and a gallery in New York are among the 281 projects that have been announced today in the shortlist of the world's biggest architecture competition - the World Architecture Festival Awards 2011 (WAF Awards).
Now in its fourth year, the competition attracted its highest number of entries to date with 704 entries from 59 different countries and, for the first time, architecture and design enthusiasts will get the opportunity to have their say on which project should be crowned as the World Building of the Year 2011.
WAF Award entries span the globe from as far south as Tasmania to the Arctic Circle in Norway with new countries such as Libya, Haiti and Cambodia appearing alongside the USA, UK, Australia, China, Japan, Spain, and Scandinavia, which all have significant presence on the shortlist.
Projects entered this year, against a backdrop of a challenging economic climate, highlight the continuing need for innovative buildings that use materials and construction techniques which are sympathetic to practical, aesthetic and economical factors.
Buildings designed by renowned architects such as Zaha Hadid and Foster + Partners feature among buildings by smaller/ lesser known practices. Each practice will compete as equals when presenting their designs live to international judging panels and Festival delegates at World Architecture Festival in Barcelona from 2nd to 4th November 2011.
A distinguished Super Jury, headed up in 2011 by Michael Sorkin, principal of Michael Sorkin Studio New York, will unite for the Festival finale and cast their vote to decide which project will be crowned World Building of the Year 2011.
New for WAF 2011 is the introduction of the OpenBuildings People's Choice Award which is being supported by OpenBuildings.com. The OpenBuildings People's Choice Award provides architecture and design enthusiasts with an opportunity to express their opinions and is the first major award where the public and not just industry insiders vote for the building they think deserves to win. The public can compare their choices to the opinions of some of the world's most regarded architects to determine the winner of OpenBuildings People's Choice Award.
To view the shortlisted projects, cast your vote and provide comments, visit: http://openbuildings.com/peoples_choice/waf/leaderboard. Votes can be cast by selecting the Facebook 'like' icon on the project page or by downloading the OpenBuilding mobile app from iTunes. The closing date for casting votes in the OpenBuildings People's Choice Award is October 28, 2011, when the top three projects will be debated and the final winner announced live at WAF in November.
Paul Finch, WAF Programme Director, said: "The WAF Awards celebrate architectural excellence the world over and allow architects to showcase their talent and their unique responses to the ever-changing economic climate. There is now an increasing need for innovative approaches to architecture, inspiring architects and designers to think in new ways about buildings. It's encouraging that the quality of this year's entries is the highest we've ever seen and we look forward to seeing which projects both the judges select as the winners."
The awards are divided into three main sections: Completed Buildings, Structural Design, and Future Projects (for designs in progress). Each section includes up to 16 categories. Every project entered into the WAF Awards will be showcased in the Festival gallery for delegates, architects, clients and critics to view.

Annual international architecture awards programme.
Learn more
Head Office
World Architecture Festival
Greater London House
Hampstead Road
London, NW17EJ
Phone: +44 20 7728 3...