Mobile electric security shelving
Hydestor mobile electric security shelving combines the space-saving efficiency of Hydestor S100 mobile shelving with the convenience of state of the art computer-controlled electric drive.
Hydestor LogicPlus is mobile shelving. Users in New Zealand and Australia can now enjoy the security and health and safety benefits which are fast becoming the accepted standard overseas.
The mobile carriages are moved by simply touching a heat sensitive pad mounted on the front of the shelving. A number of carriages will automatically move at once to create the desired access aisle. The system employs several active and passive safety features to ensure the shelving can be accessed easily and safely at all times.
The system also features a high level of security allowing easily programmable controlled access for up to 10 different user groups using electronic swipe keys.
The electronic control system can be integrated with an existing building management system to provide additional functionality. For example, the mobile shelving could react and close up in response to a fire alarm or send an instruction to turn on aisle lights when the mobile shelving is in use.
The controllers and electric drive can be retrofitted to existing mechanical assist mobile shelving systems.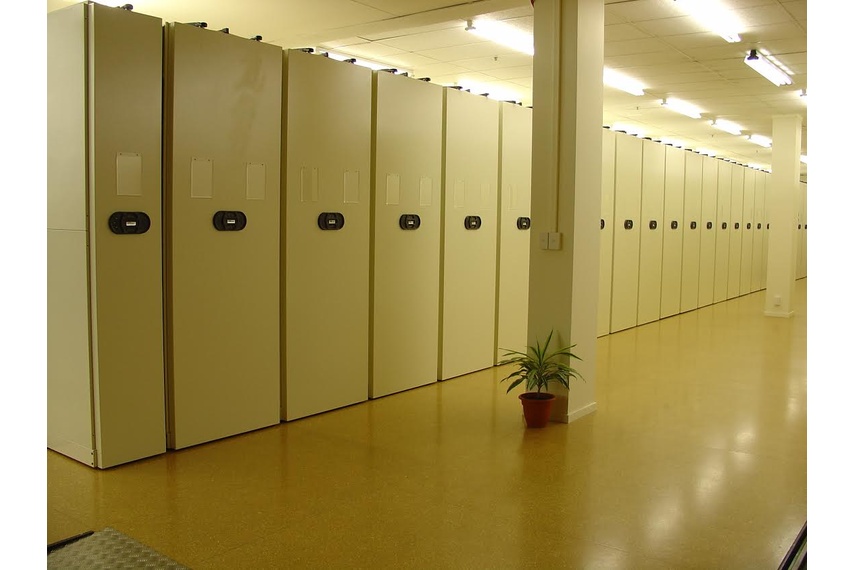 Contact Hydestor Shelving
More Hydestor Shelving products