Access Pacific Ltd
Supplier
Access Pacific is a 100% New Zealand owned company that offers sustainable plantation wood products.
The company harnesses the latest wood preservation and modification technologies and combines these with high quality New Zealand Radiata Pine and Douglas Fir to offer a range of long lasting wood products. Access Pacific's wood fibre is sourced from FSC certified forests in the North Island, and is FSC and PEFC certified.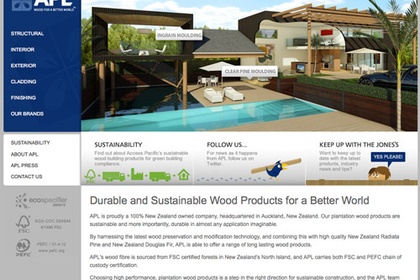 Access Pacific launches new website
Access Pacific Ltd
The 100% New Zealand owned and operated sustainable timber company, Access Pacific Limited (or better known as APL), proudly launches its new website to promote its high performance, environmentally friendly ...