Cambrian Hardware
Supplier
Cambrian Hardware is a division of Cambrian Engineering which has been operating in New Plymouth for 90 years. Using the finest materials, Cambrian Hardware creates high quality architectural hardware with a focus on form and function.
Cambrian Hardware manufacture the hardware brands of Cambrian, Samson, Bloore & Piller and Hesters of Blenheim. Unlike other hardware companies, all manufacturing is in-house. This gives the company the ability to create bespoke hardware for any project.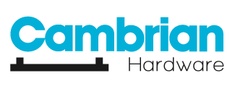 Regional Office/Distributor
Cambrian Hardware
218 Carrington Street
Vogeltown, New Plymouth, 4310
Phone: 067534...